16 Out-of-this-world books for kids
Moonshot: The Flight of Apollo 11 by Brian Floca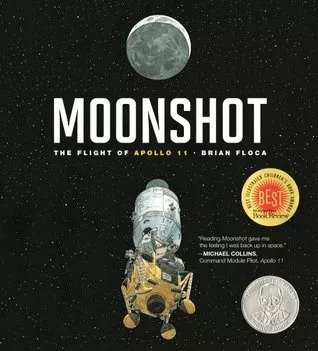 Moonshot : The Flight of Apollo 11 by Brian Floca is the story of the first American manned moon landing, Apollo 11 in 1969. It's told in a simple manner and doesn't contain too many facts for young readers. Floca manages to make you feel, with both words and pictures, as if you're right there the day Apollo 11 lifted off for the moon. The illustrations are very detailed and the story is written in poetic form. For older kids, there's the more complicated story including facts and troubles they endured on their trip toward the end. In addition, the documentary/film "Moonshot" on DVD by The History Channel, is perfect for older kids and adults. You can watch a read-aloud of this book too.
One Giant Leap by Robert Burleigh and Mike Wimmer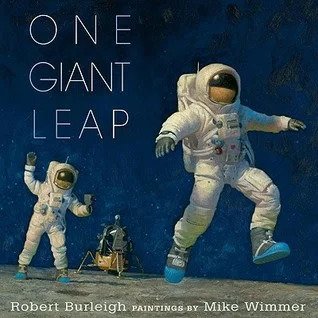 The words are instantly recognizable : ? That's one small step for man; one giant leap for mankind.? Spoken by Neil Armstrong moments after he became the fi rst human being to set foot on the moon, they have come to represent all that is possible when man's determination to achieve the seemingly impossible results in success. To commemorate the 40th anniversary of this extraordinary moment in human history, Robert Burleigh and Mike Wimmer have created a breathtakingly beautiful tribute that transports readers to the stars, where they will experience the moon landing just as Neil Armstrong and Buzz Aldrin did.
Astronaut Handbook by Meghan McCarthy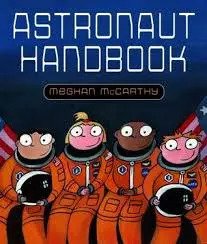 DO YOU HAVE what it takes to be an astronaut? Meghan McCarthy blasts readers off to astronaut school in her new, young, nonfiction picture book. Take a ride on the "Vomit Comet" and learn how it feels to be weightless. Have your measurements taken—100 to be exact—for your very own space suit. Meghan McCarthy has created the perfect book to share with children who want to be astronauts when they grow up.
You Are the First Kid on Mars by Patrick O'Brien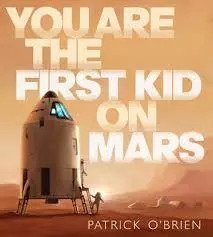 As we look back to the beginnings of the space race, 2009 is also the year for looking forward to humankind?s next step toward the stars.
In the spirit of books that once imagined colonies on the moon, Patrick O?Brien has created a unique look at your first trip to Mars. Using the most upto- date designs and theories of what it will take to establish a base on Mars, you are off on an incredible journey, over 35 million miles to the red planet. Filled with details, and vividly brought to life, this is an adventure that you are never going to forget.
Mousetronaut : Based on a (Partially) True Story by Mark Kelly and C. F. Payne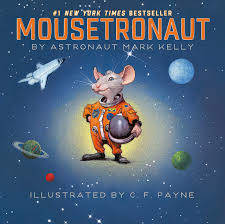 Astronaut Mark Kelly flew with "mice-tronauts" on his first spaceflight aboard space shuttle Endeavour in 2001. Mousetronaut tells the story of a small mouse that wants nothing more than to travel to outer space. The little mouse works as hard as the bigger mice to show readiness for the mission . . . and is chosen for the flight! While in space, the astronauts are busy with their mission when disaster strikes—and only the smallest member of the crew can save the day. With lively illustrations by award-winning artist C. F. Payne, Mousetronaut is a charming tale of perseverance, courage, and the importance of the small!
Curiosity by Markus Motum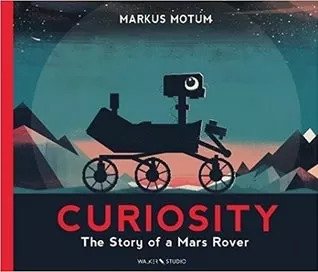 A stylishly illustrated non-fiction book about the search for life on Mars, told from the unique perspective of NASA's Mars rover, Curiosity.
Discover the incredible story of the search for life on Mars, told from the unique perspective of Curiosity, the Mars Rover sent to explore the red planet. Markus Motum's stylish illustrations and diagrams reveal how a robot travelled 350,000,000 miles to explore a planet where no human has been before.
Reaching for the Moon by Buzz Aldrin and Wendell Minor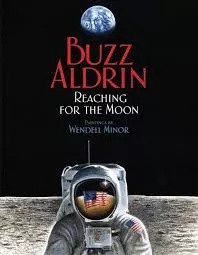 Astronaut Buzz Aldrin narrates his inspiring autobiography, which focuses on both his early life and his spectacular career. He recaps the life events that influenced his choice to become an astronaut and captures the thrilling experience of landing on the moon.
Roaring Rockets (Amazing Machines) by Tony Mitton and Ant Parker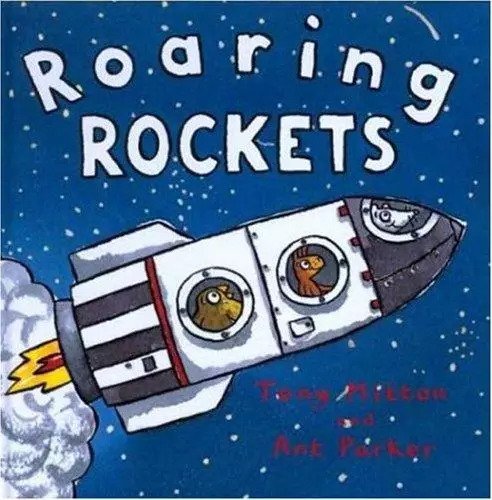 Rockets have power. They rise and roar. This rocket's waiting, ready to soar. Rockets carry astronauts with cool, white suits oxygen helmets and gravity boots. Blast off with more out-of-this-world couplets! This time it is machines that fly. In bright and bold illustrations that are as witty as the text, the animal crew roars and whizzes into outer space.
The Everything Kids' Astronomy Book by Kathi Wagner, Sheryl Racine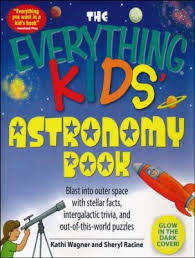 Blast into outer space with stellar facts, intergalatic trivia, and out-of-this-world puzzles (Everything Kids)! Aliens, space ships, and constellations, oh my! Ride on a rocket ship to another galaxy with this stellar book. With The Everything Kids' Astronomy Book, astronomers-in-training will learn:
How galaxies like the Milky Way were built.
Why the sun's surface is 20,000-50,000-degrees Fahrenheit.
Why the earth spins and how gravity works.
What comets and asteroids are made of and how they affect planets.
The truth about the man in the moon.
Why Mars is so hot and what those rings around Saturn are.
What scientists think about aliens and life in outer space
If you want to build a sky-watching kit or change your room into a small universe, this book will take you on a journey that is out-of-this-world!
The Secret of the Great Red Spot (The Jupiter Chronicles #1) by Leonardo Ramirez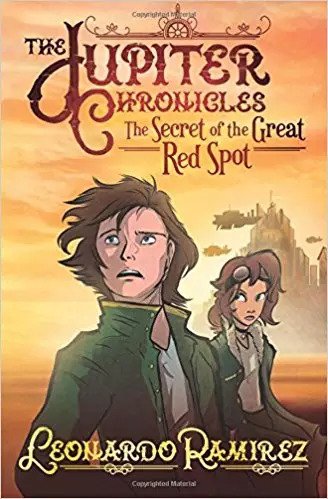 A war has been fought and lost by the Jovians. Now the answer to their freedom lies within the Great Red Spot and it's up to Ian and Callie to uncover its secret. It is the year 1892 and Ian and Callie Castillo have had to suffer the hardships of a single parent family since their father went missing five years ago. Since then Ian has refused to use the last gift that his father left the wounded boy; a telescope that sits collecting dust in the attic. When Callie decides to peer through its murky lens it activates the device and sends the Castillo's to the steam-powered floating cities of Jupiter to rescue their father and free the Jovians before the Martians launch their final attack. What follows is the beginning of an era that will forever be known by its strange name…Steampunk. The Jupiter Chronicles series takes flight with the first book in the series….The Secret of the Great Red Spot.
George's Secret Key to the Universe by Lucy Hawking, Stephen Hawking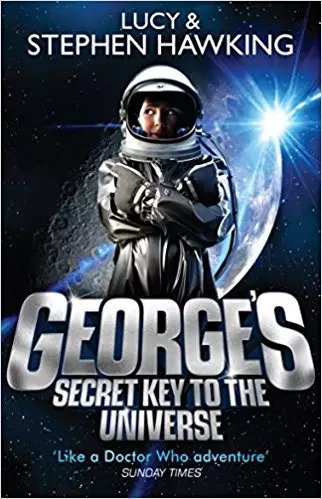 Stephen Hawking, author of the multi-million copy bestselling A Brief History of Time, and his daughter Lucy explain the universe to readers of all ages. George's parents, who have always been wary of technology, warn him about their new neighbors: Eric is a scientist and his daughter, Annie, seems to be following in his footsteps. But when George befriends them and Cosmos, their super-computer, he finds himself on a wildly fun adventure, while learning about physics, time, and the universe. With Cosmos's help, he can travel to other planets and a black hole. But what would happen if the wrong people got their hands on Cosmos? George, Annie, and Eric aren't about to find out, and what ensues is a funny adventure that clearly explains the mysteries of science. Garry Parsons' energetic illustrations add humor and interest, and his scientific drawings add clarity; there are also eight 4-page full-color inserts of scientific photos.
Midnight On The Moon (Magic Tree House) by Mary Pope Osborne, Salvatore Murdocca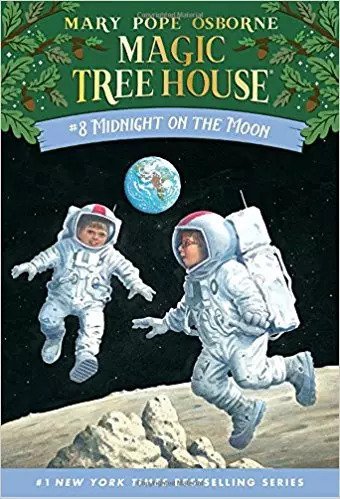 Jack and Annie are ready for their next fantasy adventure in the bestselling middle-grade series—the Magic Tree House!
Three . . . two . . . one . . . BLAST OFF!
The Magic Tree House whisks Jack and Annie off to the moon—and the future. Their mission? To find the last "M" thing that will free Morgan from the spell. Can they do it before the air in their oxygen tank runs out? Will the mysterious moon man help them? And why is Peanut the mouse acting so strange?
Gravity by Jason Chin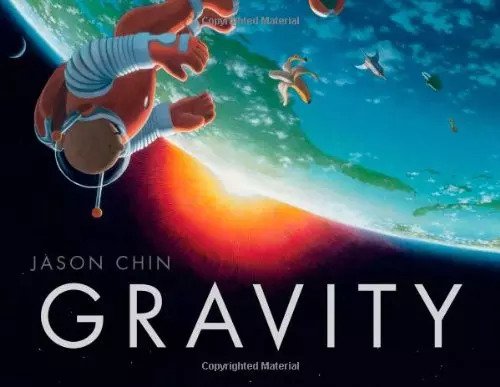 What keeps objects from floating out of your hand?
What if your feet drifted away from the ground?
What stops everything from floating into space?
Gravity.
As in his previous books, Redwoods, Coral Reefs, and Island, Jason Chin has taken a complex subject and made it brilliantly accessible to young readers in this unusual, innovative, and very beautiful book.
Zathura by Chris Van Allsburg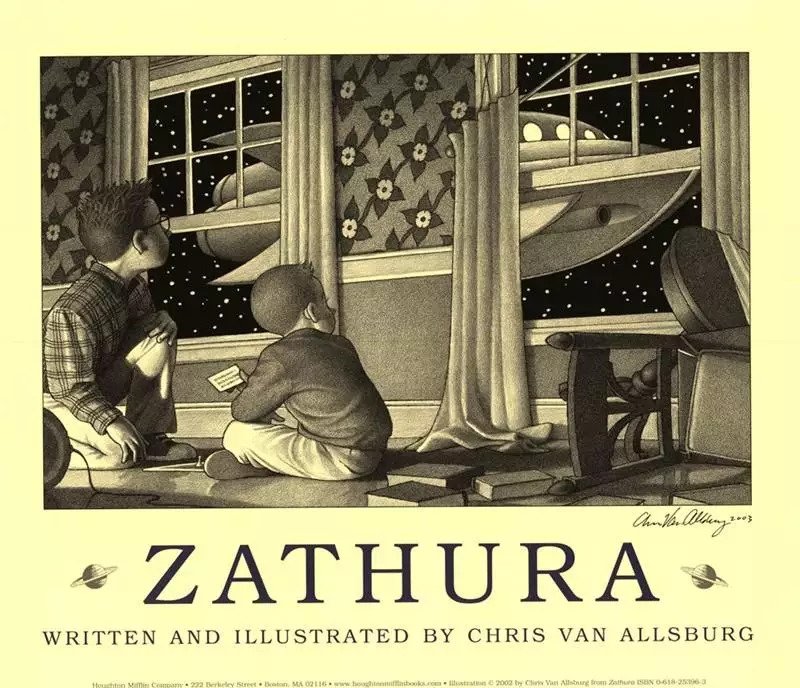 On the last page of the Caldecott-winning book Jumanji, young Danny Budwing is seen running after his brother, Walter, with a game tucked under his arm. Now after twenty years, Chris Van Allsburg is ready to reveal what happens when Danny and Walter roll the dice. This time the name of the game is Zathura and the battling Budwing boys are in for the ride of their lives.
Zathura unleashes intergalactic challenges that require even the quarreling Budwing brothers to work as a team.
How to be a Space Explorer: Your Out-of-this-World Adventure by Lonely Planet Kids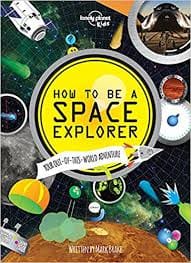 Everything young explorers needs to know to travel in space, covering what life in zero gravity is like, how to find your way around the solar system, and the all-important question of how to pee in a spacesuit! Unique illustrations take kids to the heart of the action and amazing photos show what the universe is really like. Incredible stories of real-life space exploration for kids aged 8 and up, by author and astrobiologist Professor Mark Brake. More than 300 amazing photographs
The perfect present for every aspirant astronaut!
Green Genius's 101 Questions and Answers: Spellbinding Space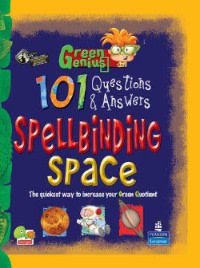 Outer space (often called space) comprises the relatively empty regions of the universe outside the atmospheres of celestial bodies. Increase your green quotient and learn the answers to some less frequently asked questions on spellbinding space. Join Green Genius as he introduces you to the fascinating outer world.

Do more with books!
Kids would love to see actual video footage of historical events. Check out the NASA site for original footage of the Apollo Moon Landing. Or maybe, you can try your hand at being a rocket scientist! Make a lunar landing module and test it out! For more ideas check out Mom's Mustard Seed. You can also engage your children in this lovely set of space-themed activities by Fun With Kids. Don't forget to visit the planetarium!
Last modified on Thursday, 09 July 2020 14:19

The Rabbit Hole Bookstore - Where children discover the magic of books! The Rabbit Hole Bookstore is a passionate initiative to bring the world of literature and books close to our children. We are an independent children's bookstore with children at the heart of everything we do. Created specifically to bond the child and the book and to allow children to encounter books in new and exciting ways, The Rabbit Hole brings with it specially curated children's books and other products that nurture creativity and a host of other skills and let the children explore the horizons of imagination and provide an opportunity to find their inner connection with the world of literature. Explore books and beyond at The Rabbit Hole!
Leave a comment
Make sure you enter all the required information, indicated by an asterisk (*). HTML code is not allowed.