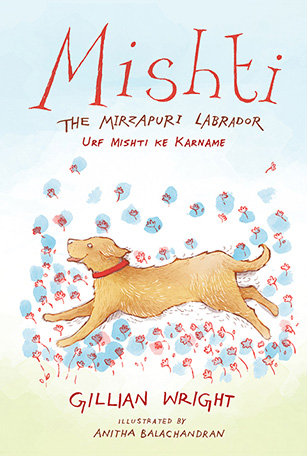 Mishti, the Mirzapuri Labrador - Gillian Wright



Mishti, the Mirzapuri Labrador

Gillian Wright

As soon as the door opened a crack, Mishti's nose appeared and then Mishti, pushing her way in, small and gold, straining on her lead with all her might. Behind her came a team of Mirzapuris. Mishti walked right past Gilly and right past Mark and across their flat straight to the water bowl, as if she already knew where it would be. Having lapped up a great deal of water, she pricked up her ears and looked around. The men who came with her were handing over her blanket, and a bottle of massage oil for her legs. Then they said goodbye and left.

Now there was just Gilly, Mark and Mishti…

Mishti, a little golden labrador born in Mirzapur, on the banks of the Ganga, is adopted by two people from Delhi, called Gilly and Mark. It is the beginning of many adventures they will have as they learn to live together, and become a family.

Full of love, mischief and great charm, told in gloriously readable prose and complemented with charming illustrations, this is a book for all ages.
AUTHOR
Perumal Murugan
Piyusha Vir
Ruskin Bond
TYPE
FOR AGES
THEME
READING LEVEL
Middle Readers (Ages 7-12)
FORMAT
BRAND
| | |
| --- | --- |
| Dimension (L x W x H) | 0 x 0 x 0 |
| Weight | 0 |
You may also be interested in these products